Raspberry can control Motor and Servo with the help of its various expansion helpers.
The main difference betwen DC motor and servo is that motor will only have 2 wires: positive (red) and ground (black), whereas servo have 3 wires: positive (red), negative (black), and signal (white).
There are a few good boards that are specifically designed to work for Raspberry, such as: PiFace, Raspy Juice and Gertboards, but there are also other available such as Pololu, Romeo, Dagu, and the Arduino boards.
Here are a few examples that provem to work with the Raspberry Pi:
PiFace
Controls 2 motors and 1 servo
Interfaces: GPIO, 8 buffered input pins (with 4 switches on-board connected to 4 of these pins), and 8 buffered output connections. 2 of the output connections are connected to mechanical relays, 4 buttons and 4 LEDs
Supported language: Python, C
Additional features: nice slim design can piggy-back nicely on the Pi
Limitation: enclosed GPIO port
Raspy Juice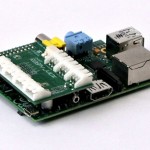 Controls 4 servos, and no motor
Interfaces: GPIO, RS232, RS485
Supported language: Python, C
Supported protocol: I2C, Atmel ATmega168A AVR microcontroller
Additional feature: power port that is enough to supply for Raspberry Pi
Limitation: cannot work with pre-powered Remote Control Car, e.g. those that work with the engine, although the steering works Ok
Gertboard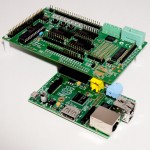 Controls 1 motor, 1 servo, and possibly 1 more servo through relay
Interfaces: GPIO (direct access to pins), relays, buffers, native motor port.
Supporte language: Python, C
Supported protocol, Atmel ATmega256 AVR microcontroller
Additional features: LEDs, and power choices of 3.3v or 5 v.
Limitation: size larger than Pi, and has to be piggy bagged on the side.
Other components that are not specifically designed for Raspberry Pi
Controls 6 servos
Interfaces: Analog, digital, USB, 6 servo ports
Supported language: Mono, C#, Python
Supported protocol: Directly via serial port, or Maestro Control Centre
Additional features: ESC, size is small as big as a coin
Limitation: Does not support motor control
Cooking Hacks Raspberry to Arduino Bridge
Controls various Arduino servo and motor boards
Interfaces: i2C, SPI, UART, analog, digital
Supported language: Arduino IDE scripts
Supported protocol, various
Additional features: Sits nicely on the Pi's GPIO
Limitation: No native motor or servo ports, requires additional Arduiono board.
4 Channel DC Motor Controller with Encoder Support
Controls 4 motors natively, no servos support
Interfaces: 4 2-pins motor ports, 2 power ports, encoders, and PWMs
Supported language: Unknown
Supported protocol: PWM, encoders
Additional features: low cost 4 channel motor controllers
Limitation: No direct interfacing for Raspberry Pi, can be done via Arduino shield
Additional features: Sits nicely on the Pi's GPIO
Limitation: No native motor or servo ports, requires additional Arduino board.

Other awesome board: Romeo V2
Romeo V2 All in One Motor Controller is a micro controller on its own right rather than a Raspberry Pi expansion. This little black board made by DFRobot is capable of storing and running Arduino Sketches, getting commands via TX and RX pins as well as MicroUSB.
[post_view]
(Visited 1,827 times, 1 visits today)